Institute for Supply Management – ISM
ISM has partnered with BoatyardX to develop the 'Advance Platform', which delivers automated talent assessment and industry benchmarking, with a future plan to include learning paths. The vision for this platform is to ultimately support assessments of industry competencies, skills, knowledge and mindset applicable across multiple professions.
Key Challenges



The existing Supply Chain

Assessment was manually 

prepared and customised per 

client, making it both time 

consuming and more difficult to 

support industry benchmarking.

​

Manual assessments restricted 

the ability of ISM to expand their 

assessment offering, perform 

benchmarking and develop 

learning capabilities.

​
Solution



A scalable, adaptable SaaS 

cloud-based platform, 

developed in partnership with 

BoatyardX, providing supply 

managers with self-managed 

assessment capability, 

differentiated benchmarking and 

profession data.

​

An industry agnostic solution 

providing white labelling 

capability in the future.

​
Business Benefits
Removal of manual process,

faster turnaround times and

more accurate benchmarking.

Automated repeatable

assessments, allowing

expansion of assessment and

learning path offering.

Creation of a product suite for

future growth and providing a

richer customer experience
The Institute for Supply Management® (ISM®) is the first and largest not-for-profit professional supply management organisation worldwide. Founded in 1915, ISM has over 50,000 members across 100 countries. ISM has for over a century provided education, certification, leadership development and assessment services with thousands receiving ISM's coveted certifications. ISM has grown with the industry and has helped to lead and advance the profession of supply management.​
We chose BoatyardX as our partner …..
says ISM CPO, Susan Marty.

What did the ISM / BoatyardX partnership deliver?
ISM identified Talent Assessment as a key need across the industry and recognised the need to improve its value proposition to members, while also seeing the opportunity to create new diversified revenue streams. Teaming with BoartyardX has enabled ISM to rapidly develop and bring to market their competency-based Talent Assessments in a modern interactive platform. This move signifies a departure from the traditional static report format and supports future expansion through automated benchmarking, learning paths, and multiple assessments.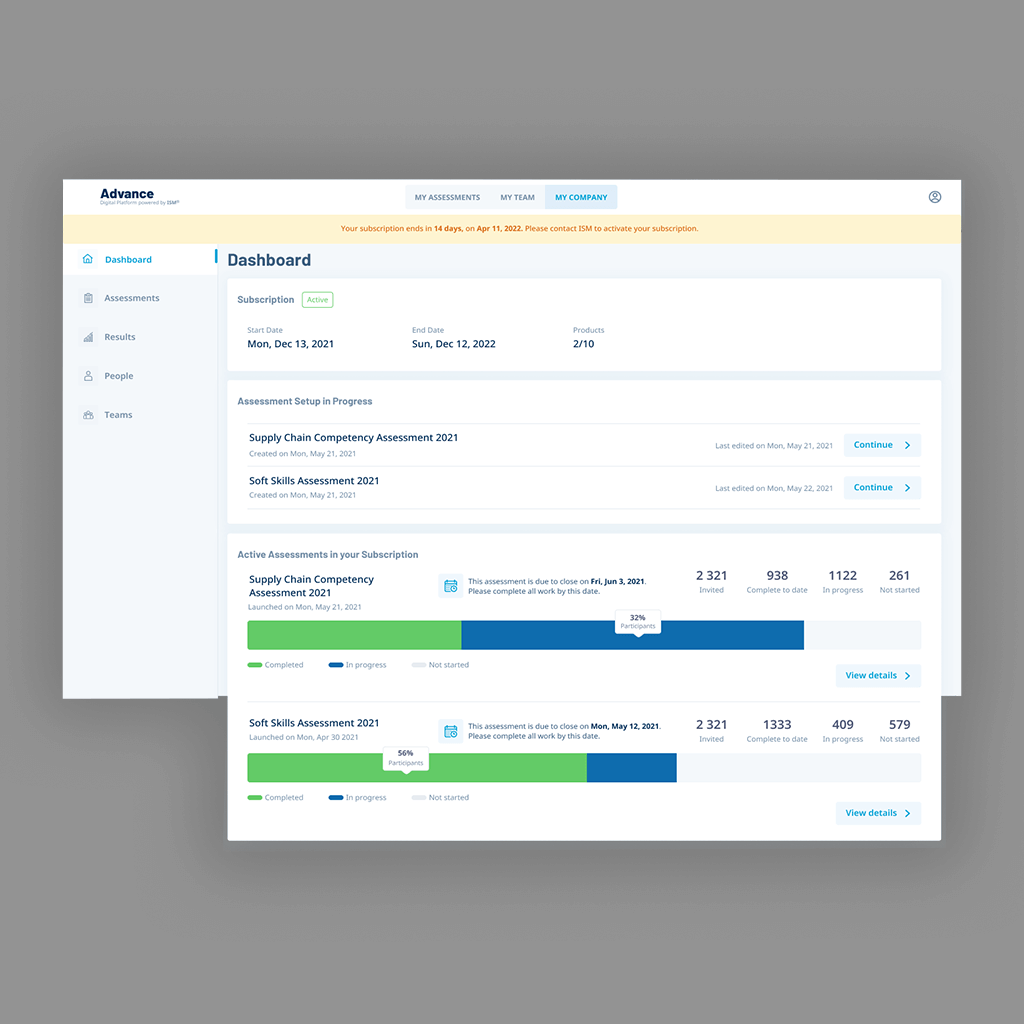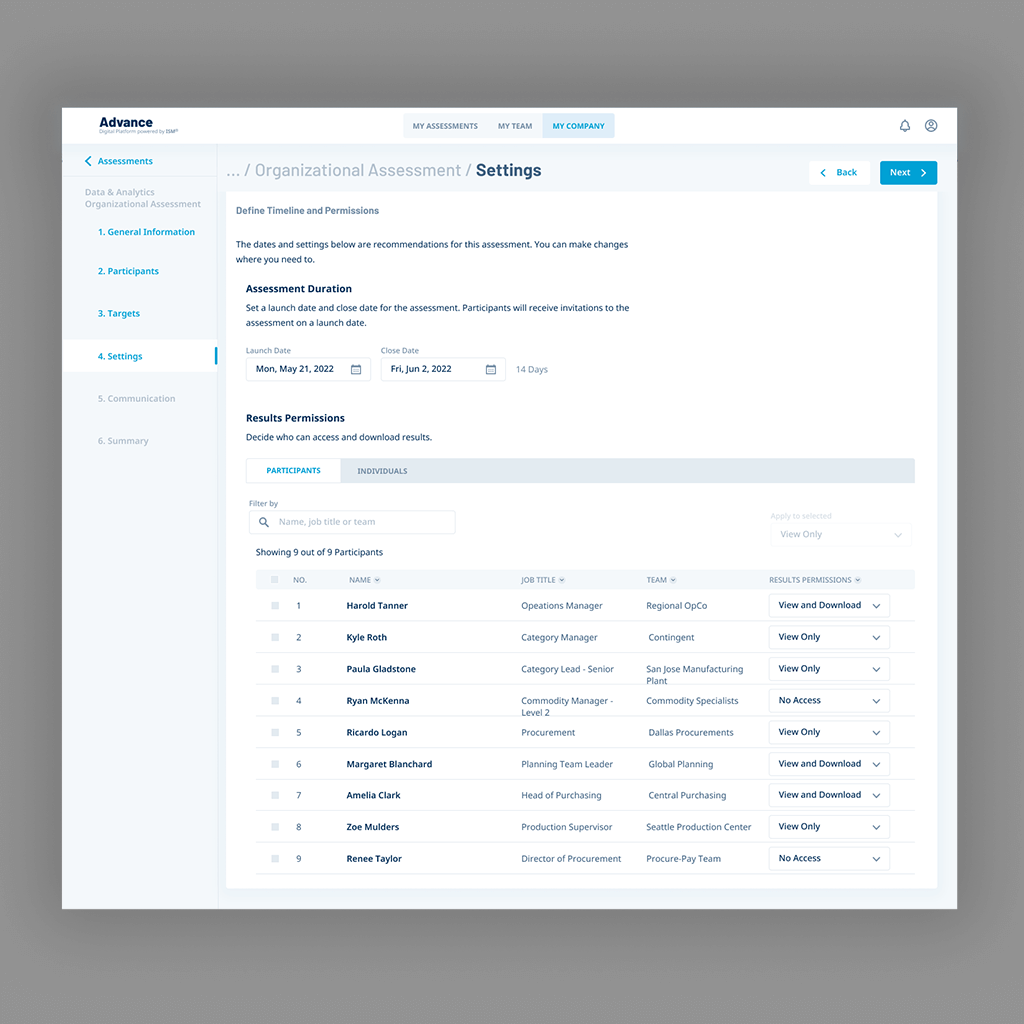 ISM has for many years supported the supply management industry through its Mastery Model Assessment, a manually produced and customised assessment of members competencies within an organisation. While of significant end customer value this process is tedious, time consuming and limited by the fact that it is manually generated. 
​
BoatyardX's challenge was to automate ISM's products in a fast and cost-effective manner, providing customers with the capability to manage and track the assessment process. In addition it was required to enable viewing and interrogation of results online and to quickly create value for customers and expand the offering and reach of ISM within the supply management sector. ​
ISM's SaaS-based platform, 'Advance' allows ISM to position its Talent Assessment products at the heart of supply management organisations' efforts to assess and upskill their supply management teams in the face of growing complexity and challenges and to benchmark their members against their peers. The platform provides Supply Management leaders with control over the assessment process and over time provide access to more assessments, automated benchmarks and personalised learning paths. The Advance Platform is industry agnostic and will in the future allow expansion into other industries.
says ISM CPO, Susan Marty
Engagement between ISM and BoatyardX
Through a detailed discovery phase which entailed high-level design and technical review, BoatyardX built an in-depth understanding of the ISM Talent Assessment product needs. The discovery phase included a series of workshops where the existing manual assessment process was analysed alongside the ISM vision for the future.
​
Following the initial discovery BoatyardX and ISM adopted an integrated team approach combining ISM product knowledge with the BoartyardX design and technical expertise to deliver within a 6-month window an initial Minimal Viable Product offering of the Talent Assessment products.
​
The MVP approach included an accelerated design phase to deliver a frontend-enabled prototype, for pre-sales review with key customers, where ISM could gather feedback on the proposed designs and encourage early adoption of the platform. Product build continued in parallel with the accelerated design phase where a just-in-time approach was adopted, where only those capabilities required for the MVP were built using the BoatyardX reference architecture.
​
The Advance Platform supports the end-to-end automated process of signing up an organisation and company administrator, launching an assessment, inviting members to complete the assessment and processing the completed results within a defined time period with online charts, targets, benchmarks and rolled-up results.​
​
​
Since launch of the MVP, ISM have signed up a number of active clients to the platform and provided in-depth online insight into their employee competencies and aptitude, with a number of customer organisations completing the assessment more than once. In this period ISM have developed additional assessment types and are actively engaged in expanding the platform functionality with BoatyardX based upon customer feedback and industry insight.​
BoatyardX Services
Product discovery and business solution definition

​

Product architecting and planning 

​

Full-stack development 

​

UI/UX design 

​

Reference Cloud Architecture deployment 

​

Data engineering / data science 

​

DevOps 

​

SDLC management

​

Business & technology strategy support
Technologies



Architecture: 

BoatyardX

 reference architecture 

​

Frontend: Native JavaScript, 

Vue.js

, 

WebPack

 

​

Backend: 

.Net

, 

SpringBoot

, Maven, Docker 

​

DevOps: AWS, Kubernetes 

​

CI/CD: Jenkins, SonarQube, Gitlab 

​

AQA: Cypress 

​

UI/UX design: Figma